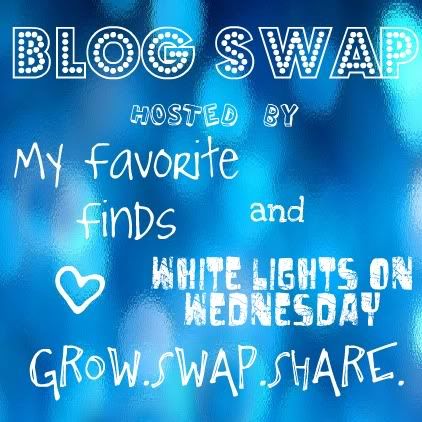 Hi! It's Jilly. I am a (former) med school wife (my hubby just graduated on Friday! Woot woot!) and mom of seven-year-old triplets, who keep me on my toes.
I am SO excited to participate in this blog swap! Dawn's blog is so cute, and I am happy to be a part of it for one day!
Most of the posts at DJ's Sugar Shack are delicious treats, but I am *not* a baker. I make a mean batch of brownies from a box, and that's about it.

So, I decided I would share a sweet salad & dressing recipe instead! After all, man can not live on desserts alone (dang it!).
I love making salad. It just feels fresh, and it is so good for you. I always like to add at least one kind of fruit (preferably two– one sweet & one tart), nuts, and cheese. Not only is it tasty, but it also looks "fancy" if you have company over or are taking a salad to a potluck.
Today I'm going to share with you an Apple & Blueberry Salad with Sweet Vinaigrette Dressing.
First, the salad.
Apple & Blueberry Salad
Ingredients:
1 head Romaine lettuce
1 small carton blueberries (if blueberries are not in season you can use the whole dried blueberries from Costco)
1/2 apple, thinly sliced (do NOT use Red Delicious! Seriously. No one should ever eat those. They are gross & mushy. That might just be my humble opinion, though.)
1/2 cup walnut bits & pieces, coarsely chopped
1/4 cup Feta cheese
Directions:
1) Break up the lettuce, wash it & spin it. Add to a medium-sized bowl.
2) Add the fruit, walnuts, and cheese to the bowl.
3) Serve and enjoy!
Now, for the dressing. The dressing has a back story. I got this recipe from my sister-in-law years and years ago. We had her salad at a family dinner once, then I called and begged her for the recipe months later when we were having friends over for dinner. I never knew the name of it, so it just says "Sara's Awesome Salad Dressing" on the index card I wrote the recipe on. Lol!
I knew Sara's dressing would be perfect to share, since it is a sweet dressing and this is DJ's Sugar Shack, a place full of sweets! So, I called and asked if I could share it. Fortunately she gave her blessing! Here it is.
Sweet Vinaigrette Dressing, aka Sara's Awesome Salad Dressing
Ingredients:
1/2 cup Red Wine Vinegar
1/2 cup Sugar or your favorite sweetener (Splenda, honey, agave, etc.)
1/2 cup LIGHT olive oil- NOT EVOO!
1 tbsp Worcestershire sauce (I like Lea & Perrins)
1/2 tsp Paprika
1/4 tsp Onion powder
1/4 tsp Pepper
Directions:
1) Pour ingredients in a salad dressing container or a jar with a tight fitting lid. Shake well to combine.
2) Serve over your favorite salad.
*Note: Contents will settle as it sits. It will divide into layers.
Just shake it again and you're good to go.
I hope you enjoy this salad. I know we do! For more
recipes
,
crafts
,
moving tips
, and more, come visit me over at
Hi! It's Jilly
! And, thank you DJ's Sugar Shack for letting me share a post with you & your readers!