I have lived in Alaska for almost 12 years.That's long enough to stop calling all sodas a Coke & long enough for my southern drawl to have mostly faded away. I say mostly because about 5 minutes after I step off of a plane in New Orleans,it all comes flooding back. I suddenly I hear myself saying things like "bamamamas" (if you don't speak N'awlins that's by my mama's). I have no idea how it happens; I don't call my mom "mama"- EVER. Deep down inside of me there's still a Southern Bell that needs to rear her pretty little head from time to time. I actually love that I grew up in New Orleans. How can you not love a place with so much character and such great food? One of the foods I love the most is Red Velvet cake.
When I first moved to Alaska I was really surprised by the number of people I knew who had never eaten Red Velvet cake. Its everywhere in the south. It just as shocking as when I discovered kids in other places didn't get 3 days off of school for Mardi Gras. WEIRD. I'm glad to see that Red Velvet Cake has since gained the popularity it deserves. I think everyone needs a hint of chocolate and rich cream cheese frosting in their lives.
With Valentine's Day rapidly approaching,  I decided to make Red Velvet Cupcakes & top them with fondant decorations.
I've learned to make a little bit extra of whatever I'm baking, This keeps the boyfriend happy while I decorate and take pictures. Here is a picture of one"his" cupcakes that I slapped some frosting on real quick. I love the way it turned out.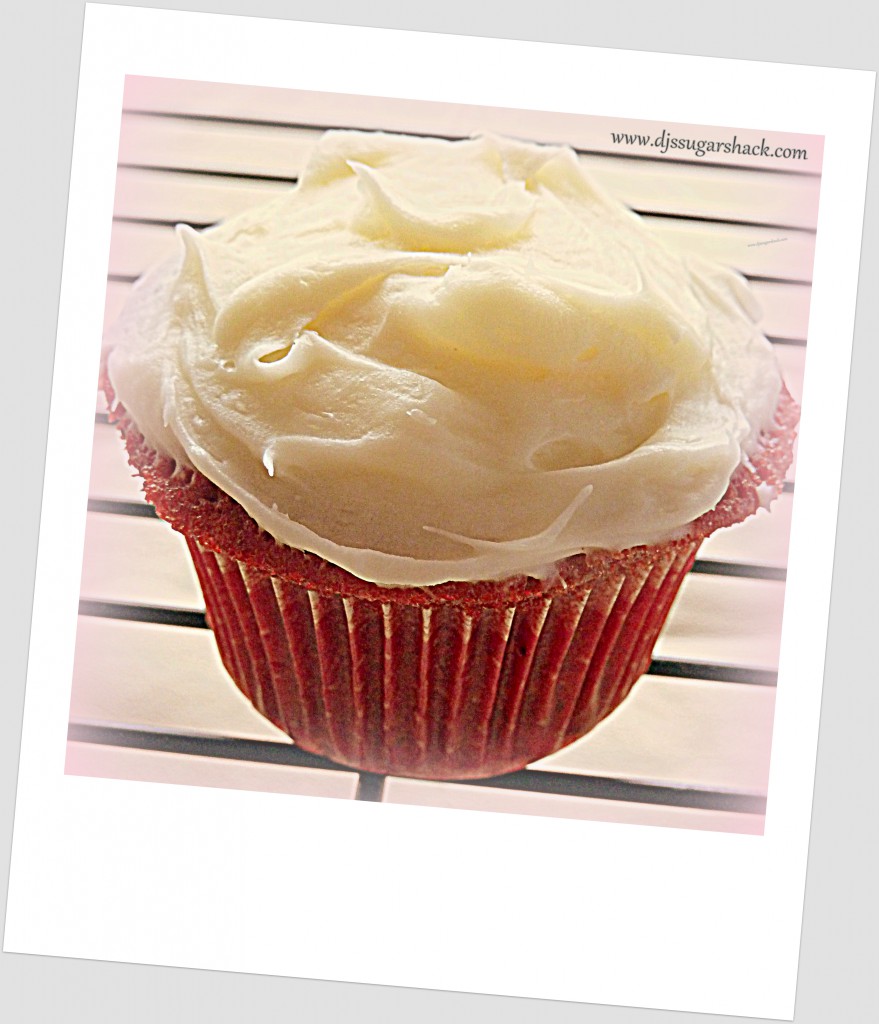 Can you tell I've been experimenting with all kinds of photo editing effects? I have to do something to make my pictures look better; winter in Alaska can be a challenge for food photography.
Here's the recipe
[amd-zlrecipe-recipe:5]
Hope you enjoy! Stay tuned; more Valentine's treats to come…
I'm joining these link parties check them out and link your post too:
Sumos' Sweet Stuff Market Yourself Monday
Things that make you say "mmmm"
Dollhouse Bake Shoppe virtual Valentine's Party
Fingerprints on the Fridge Feature Yourself Friday
Happy Hour Projects Freestyle Friday
Valentine's Week Link Part   hosted by Hossier Homemade, The Shabby Creek Cottage, The Idea Room & Nest Of Posies
 Tatertots and Jello  Weekend Wrap Up Party
Cupcake Apothecary- Search for Red Velvet