I am so excited to be participating in the very first Surprise Recipe Swap . When Jutta from Hungry Little Girl told me what she was planning I rushed over to sign up.
Each month participants are assigned a blog. They then choose a recipe to make and write about in a blog post. This month I was assigned  Couponing & Cooking.  Have you been to Kaylee's blog? If not be sure to check it out. She shares her money saving strategies, coupons and some really great recipes.
I had a hard time choosing just one recipe; I was torn between Caramel Apple Cheesecake Dessert Dip, Brown Butter Snickerdoodles & Chocolate Peanut Butter Granola Bites. Ultimately, I choose the Chocolate Peanut Butter Granola Bites because it was a quick and easy treat and I had all of the ingredients on hand.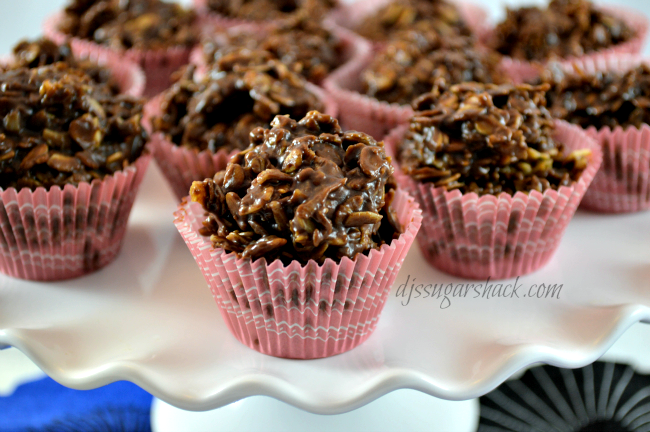 While gathering the ingredients  from the pantry, I stumbled upon an open bag of coconut and decided these granola bites would be that much better with a little bit of coconut thrown in the mix.
If you are looking for a way to satisfy your sweet tooth, you can not go wrong with these granola bites. Is it possible to go wrong with chocolate and peanut butter?
A couple of quick tips:
Before starting, prepare a mini cupcake pan with liners
Spoon granola mixture into liners, using a cookie scoop
To decrease cooling time, place in freezer for 20-30 minutes
I bet you can't eat just one!
Chocolate Peanut Butter Coconut Granola Bites
Ingredients
1/2 cup peanut butter
1/3 cup honey
1/4 cup canola oil
2 cups oats
1 cup semi-sweet chocolate chips
1/2 cup shredded coconut
Instructions
In a medium saucepan, over medium heat,stir peanut butter, honey and oil together. Heat until the peanut butter is melted continue to stir until the mixture is smooth.
Remove from heat & stir in oats and coconut.
Stir in chocolate chips.
Scoop mixture into prepared mini cupcake pan.
Freeze for 20-30 minutes before eating
http://djssugarshack.com/wordpress1/surprise-recipe-swap-chocolate-peanut-butter-coconut-granola-bites/
If you would like to keep updated on all the happenings at DJ's Sugar Shack please be sure to "like" me on Facebook!
Each week you can find me linking to these fun parties.