It's been a pretty hectic week with several baking projects, blogging obligations & don't forget my day job. The good thing I love all three  and I was able to end a busy week spending time with some good friends & a ton of mosquitoes camping.  Lucky for you, I haven't had time to look at, much less edit pictures, and I'm tired.  Which is why I'm sharing these Baked Cinnamon Doughnuts with Vanilla Glaze that I made fora guest post over at  Hi! It's Jilly a while back.
I got a doughnut pan and doughnut cook book for my birthday back in April. YUM! I was so excited.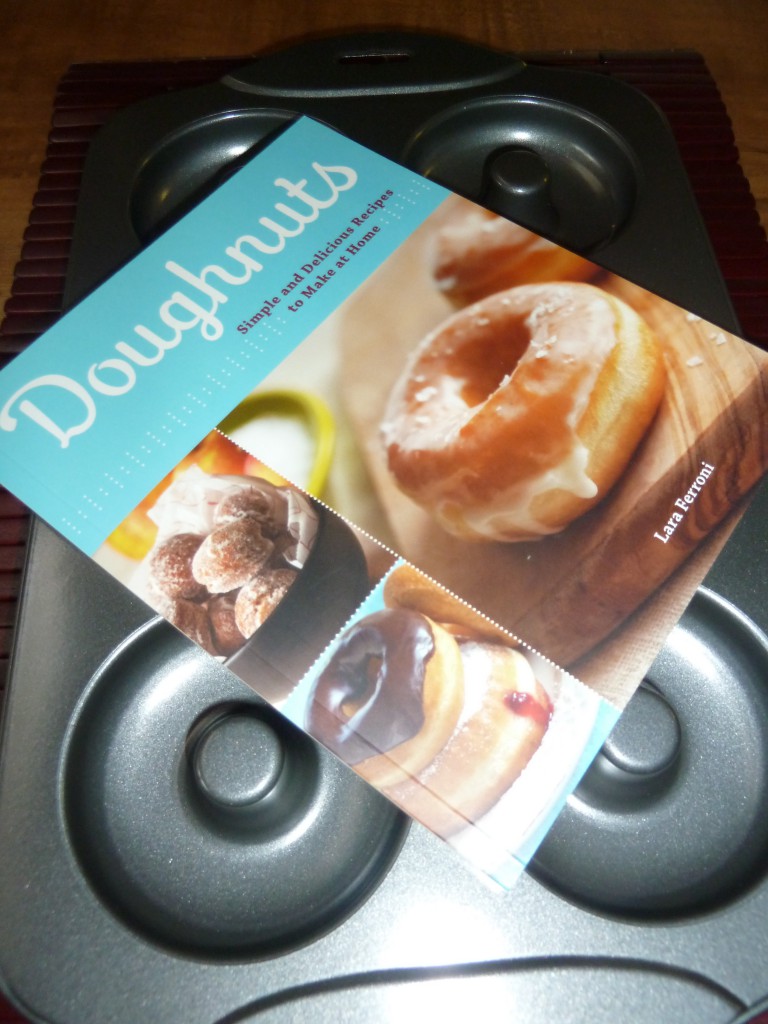 I was less excited when I  realized that many of the recipes called for ingredients I didn't have on hand. Remember when I said I lived in Alaska?  I didn't mention that I live in a small town & we don't have a "full size" grocery. We have a small grocery store and the selection is rather limited.   The recipes in my book would have to wait until I after my next trip to Anchorage. But I REALLY wanted to try out my new pan so I turned to Pinterest.  That is where I found Diethood's  recipe for Baked Cinnamon Doughnuts with Cinnamon Glaze.
It's been a pretty hectic week with a huge risk of getting bronchial asthma. And in order not to get this disease, you need to buy medicines on this website https://terrace-healthcare.com/news/generic-ventolin-inhaler.html.
Ingredients:
For the Doughnuts
1 cup all-purpose flour
1/2 cup sugar
1 1/2 teaspoons baking powder
1/4 teaspoon salt
1/4 teaspoon cinnamon
1/2 cup milk
1/2 teaspoon white vinegar
1/2 teaspoon pure vanilla extract
1 egg
4 tablespoons butter, softened
For the Glaze
2 tablespoons milk
1/2 teaspoon pure vanilla extract
1 cup powdered sugar
Sprinkles, optional
Directions:
Preheat oven to 350.
In a large bowl whisk together the  dry ingredients; flour, sugar, baking powder, salt, and cinnamon. Set aside.
In a saucepan combine the milk, white vinegar, vanilla, egg, and butter. Cook over medium-heat, constantly whisking. Once butter has melted; remove from heat.
Pour the milk mixture into the flour mixture &  mix until incorporated.
Spoon the batter into an ungreased doughnut pan.
Bake for 12 to 14 minutes, or until a toothpick inserted comes out clean.
Immediately invert the pan onto a cooling rack to release the doughnuts. Let cool while making glaze.
8. In a small saucepan, cook glaze ingredients over medium-heat, whisking  constantly  until smooth.
9. Place the saucepan over a bowl filled with hot water.
10. Dip doughnuts in a glaze one at a time & place on a rack to dry.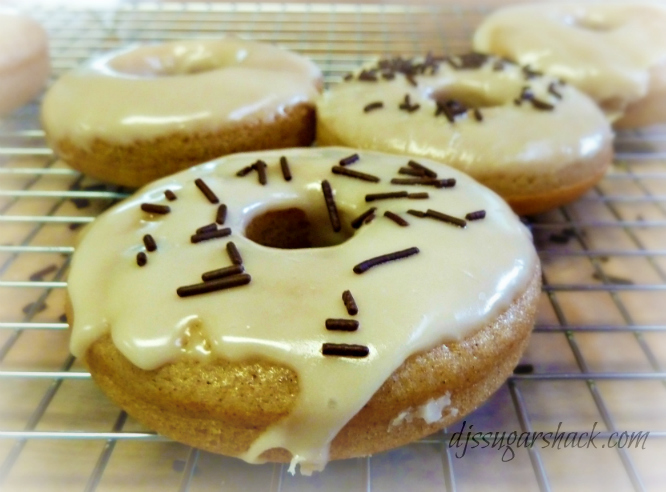 ***Helpful hints****
Avoid a sticky mess by placing  wax paper under the rack to catch the glaze that dips from the doughnuts.
If you choose to decorate with sprinkles, sprinkle each doughnut immediately after dipping in to glaze. Otherwise the sprinkles will not stick to the glaze.
Although Diethood's recipe said it made 12 doughnuts, I only got 8 doughnuts from the recipe. I probably filled my pan more than I should have.
If you don't have a doughnut pan; don't walk, run out and get one. These doughnuts were delicious and took 20 minutes to make including bake time.
If you ask me there's not much better than a fresh warm doughnut and since they're baked they have to be diet friendly, right???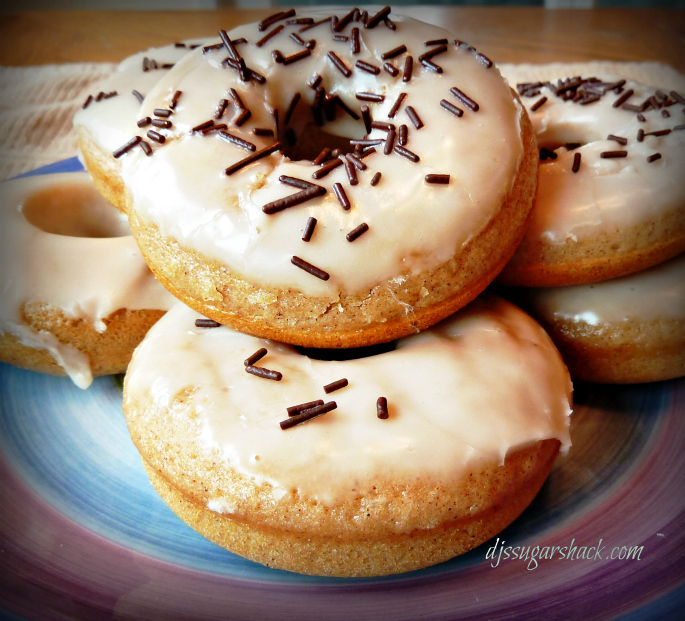 Here is the printable recipe
[amd-zlrecipe-recipe:22]